Dorunto Trademerk was Identified as the Famous Trademark of Beijing
  According to the regulations of "Beijing Municipal People's Government on the Views of Further Implementation of Trademark Strategy to Promote the Development of the Capital Brand Economy" (Document No.11 (2013) issued by the Beijing Municipal People's Government) and "the Identification and Protection Measures for the Famous Trademark of Beijing", Beijing Administration for Industry and Commerce in collaboration with relevant departments carefully examined the application materials of Dorunto and collected broad comments from relevant departments and the industry associations and experts, and then identified Dorunto trademark as the "the Famous Trademark of Beijing in the year of 2014".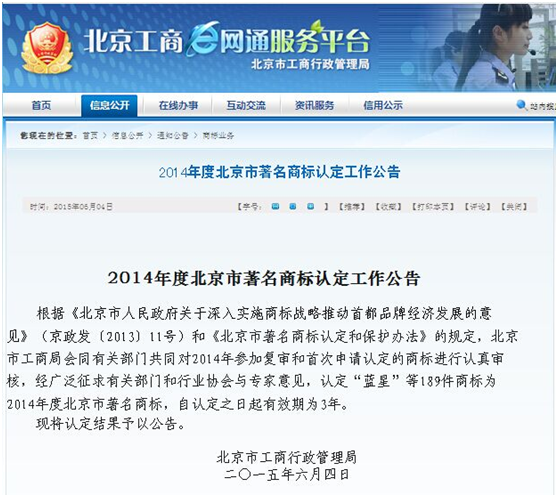 The "Famous Trademark" is the significant signs of the reputation, integrity, and overall strength of an enterprise. To apply for a famous trademark, the trademark should have higher market reputation and commercial value, be well known by the relevant public, be on top of the same industry in the recent period for three continuous years in major economic indicators such as the sale, tax, profit and so on, and have higher market occupancy.

  As the wholly-owned subsidiary of Beijing Dorunto Information Service CO., LTD, since the foundation, Beijing Dorunto Intellectual Property Service CO., LTD has always adhered to the enterprise mission of "making China's enterprises have their own brands", been guided by the enterprise spirit of "integrity, attention, win-win, and honor", constantly improved the professional quality and customer service quality, and escorted for the enterprise intellectual property!
  The identification as the "Famous Trademark of Beijing" again confirms that the service quality of Dorunto has been recognized by the society and enterprises, and Dorunto has become the leading brand in the intellectual property service industry!
  In the face of the hard-won honor, Dorunto will take this as an opportunity to make persistent efforts and make unceasing progress at a new starting point, return the customer's and different social sectors' support and preference with better service quality, and continue to make greater contribution to promoting the "innovation-driven development" and the brand construction of Chinese enterprises!